Get started with the Skluzačka ticket!
22. April 2022
We have launched the sale of completely different season ticket. You don't have to check how many entries you have left, just come anytime until 10.6.2022.
While one all-day entry at the box office costs CZK 1,099, you will pay only CZK 50 more for the Sklužačka ticket, and you can come when you want. You can come every day until the beginning of the summer season. If you only come to us twice, you've already saved on admission.
You can buy the Skluzačka ticket at our ticket offices or choose one of the variants on the e-shop, whichever suits you best. On the first visit, we will just take a picture of you to know who the season ticket belongs to. It is non-transferable. And you can start it!
With the basic Lehárko ticket, you have unlimited access to the entire AQUA zone every weekday. With Fičák ticket you can come on weekends and public holidays, use the preferential check-in at the cash desk or take with you up to 4 friends or relatives for a discounted price of CZK 499. In addition, the most stuffed version is Kamikadze ticket which offers you 1x free entry for anyone and 1x free use of a body dryer, which you can try on the way to the restaurant, where you also have a 15% discount on all refreshments.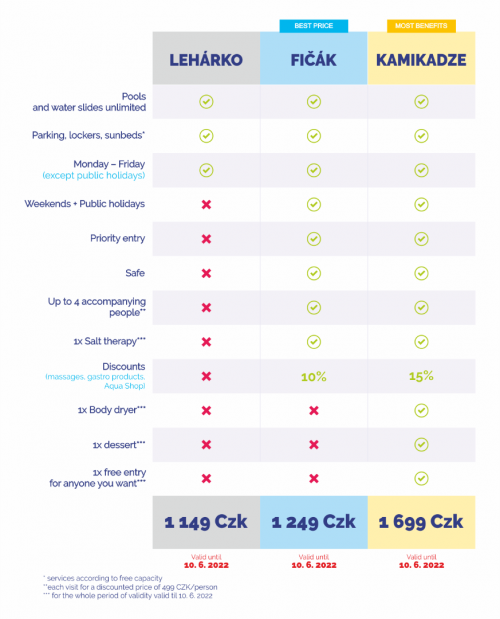 Do you want to take kids on a water slide in the afternoon, but it's not worth buying an all-day ticket? Or do you just like to come back to us often? Then the Sklizačka ticket is made for you. But choose quickly, we only have a limited amount of them.